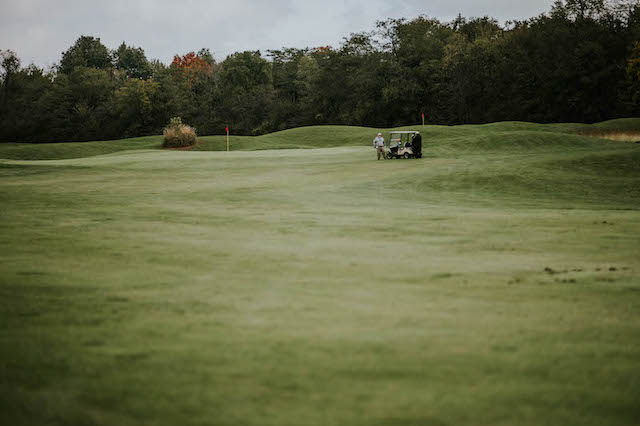 GOLF COURSE OPEN FOR PLAY (Tee Times Are Required)

We have implemented the following to comply with social distancing requirements:
CLUB HOUSE & DRVING RANGE ARE TEMPORARILY CLOSED
TEE TIMES ARE NOW REQUIRED DAILY FOR ALL PLAY:
We've doubled tee time intervals from 7 to 14 minute intervals
Please arrive no more than 10 minutes before your tee time
1 rider per cart (except family members)
PROCEDURE UPON ARRIVAL AT THE COURSE:
Please Call when you arrive (937) 592-GOLF (4653)
To Register / Pay by Credit Card over the phone
Pre-payment through our Online Tee Times is also an option
(No Cash payments at this time)

We will advise which CARTS are available for keyless access
1 Rider per Cart (except family members, same household)
Carts are SANITIZED after each use and equipped with new scorecards & pencils
RULES OF PLAY:
-- FLAGSTICKS MUST REMAIN IN THE HOLE (No touching please, there is a pvc pipe in the hole to make getting your ball easy)

-- PREFERRED LIES IN ALL BUNKERS (No rakes on course)

-- MAINSTAIN PROPER SOCIAL DISTANCING AT ALL TIMES (6 ft)
Hand Sanitizer is available outside the old pro shop near the carts
At this time, we are NOT offering any Food & Beverage services
Remember the key to remaining open to enjoy the outdoor recreation golf offers is to eliminate all Human contact.
or Call (937) 592.4653
Thank You for your patience as we all navigate these crazy times together! We sure do appreciate you.