Thursdays 3:30 - 4:30

2022 Season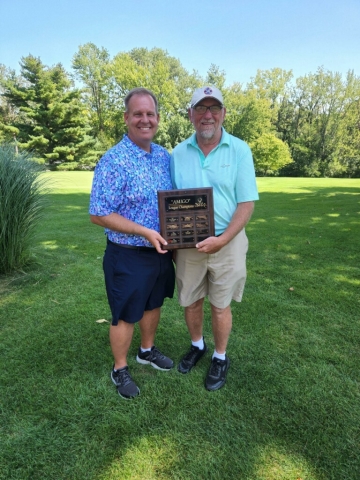 League Season Champs: Jeff Martin & Keith Levan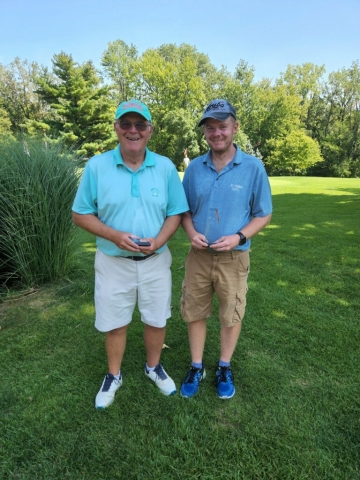 Wayne Stevenson & Geoff Stevenson were the Ole Buddy Low Gross Champs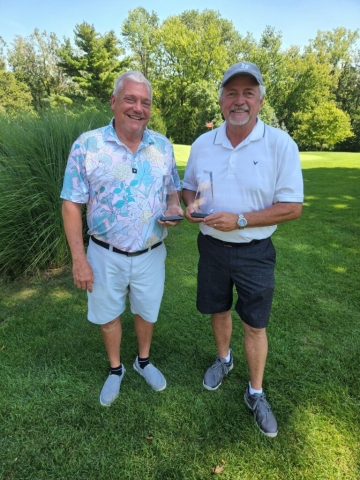 Jim Clement & Tom Abrahamson were the Ole Buddy Low Net Champs
2022 Season Final Standings
| | | |
| --- | --- | --- |
| Teams | Total Points | Team Members |
| Don Leis / Ron Carmin | 361 | Don Leis | Ron Carmin |
| Mike Brady / Tim Froebe | 351 | Mike Brady | Tim Froebe |
| Greg Best / John Limberg | 422 | Greg Best | John Limberg |
| Mike Sullivan / Steve Buck | 365 | Mike Sullivan | Steve Buck |
| Donald Brown / Jon Hubbard | 362 | Donald Brown | Jon Hubbard |
| Brad Wilkins / Tom Allison | 458 | Brad Wilkins | Tom Allison |
| Doug Smith / Mike Vetorino | 419 | Doug Smith | Mike Vetorino |
| Jim Hilliker / William Montgomery | 400 | Jim Hilliker | William Montgomery |
| Doug Titus / Randy Korn | 339 | Doug Titus | Randy Korn |
| Don Maples / Don Southard | 489 | Don Maples | Don Southard |
| Dan Bratka / David Hook | 336 | Dan Bratka | David Hook |
| Jason Robson / Wayne Stevenson | 361 | Jason Robson | Wayne Stevenson |
| Rob MacDonald / Scott Duff | 385 | Rob MacDonald | Scott Duff |
| James Vermillion / Ron Hadley | 427 | James Vermillion | Ron Hadley |
| Jeff Martin / Keith Levan | 511 | Jeff Martin | Keith Levan |
| James Clement / Thomas Abrahamson | 414 | James Clement | Thomas Abrahamson |
All players will be required to have a USGA/GHIN/World Handicap this season. We will be using across the board in all of our leagues and other tournaments so every player has one handicap. This also travels with you and can be used worldwide, anywhere you play. You can read more about a GHIN Handicap HERE.
League players (& subs) will pay our reduced members rate of $26 for this service. If you already purchased this for 2022, you're all set.
League Fees based on 17 weeks and are paid in 2 installments. First half due April 28, Second half due June 16.
OR pay FULL season and get 1 week FREE.
GHIN Fee: $26, all players unless already purchased for 2022
For those who are NOT LHGC MEMBERS:
Riders: $153.00 each HALF, $288 FULL (incl one week FREE)
Walkers: $110.50 each HALF, $208 FULL (incl one week FREE)
For LHGC ANNUAL PASS MEMBERS:
LHGC Members (riders): $59.50 per HALF covers cart fees, $112 FULL (incl one week FREE)
LHGC Members (walkers/ annual cart members): No additional fees, you're covered for league play as long as you've paid GHIN fees
LHGC Members who do not have annual cart may also purchase a Members eCart Card for optional use if they walk & ride
Amigo League Dues: $80 payable directly to Randy Korn
Randy will also handle SKINS & GREENIES & SIDE GAMES again this season.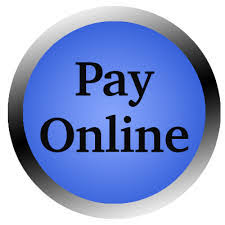 2022 Season Highlights
April 28- First half fees due
May 5- First night of league play
June 16- Second half fees due
August 18- Raindate/Position Round/Fun Night
August 25- Raindate/Position Round/Fun Night
August 28- Ole Buddy
League Play Rules
White Tees
Improve your lie in your own fairway only
CLICK TO SEE POTENTIAL SUBS WITH GHIN HANDICAP: LHGC_Ghin_Roster_2022.pdf
This is where you will find information, tee times, schedules, matches, results & contact info for other players in your league. To access any locked pages on the portal sign in with your league's GGID : QQPMQV