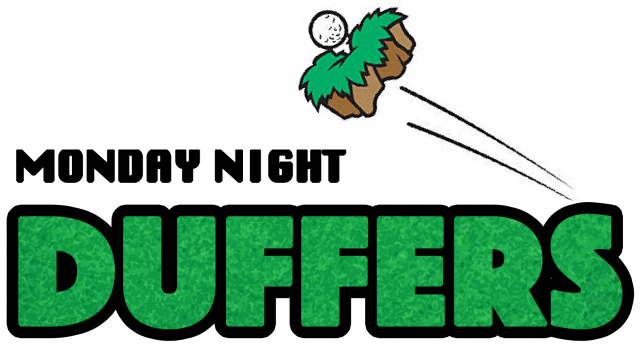 2019 Dates for league play:
April 15, 22, 29
May 6, 13, 20 (not Memorial Day)
June 3, 10, 17 (rainout), 24
July 1, 8, 15, 22, 29
August 5, 12, 19, 26
2019 Duffers League Information

Dues- First half are due by April 15, first night of league play. Second half due by June 24.
Corresponding dues include greens fees (and cart for riders) and skins will be paid for by the half season. This makes check-in easier for all of us on a weekly basis and builds a better league.

Riders: $178 per half
Walkers: $133 per half
LHGC Members (riders): $70 per half
LHGC Members (walkers/ annual cart members): $25 per half
LHGC Members who do not have annual cart may also purchase a Members Cart Card for weekly use
Skins: $3 per week, net and gross
Subs- It's your responsibility to get your own sub. All sub notifications should be emailed to: This email address is being protected from spambots. You need JavaScript enabled to view it. no later than 2 pm Monday if you want the scorecards printed with changes in time for league play.
White Tees, with the exception of players 70+ (silver tees) and women (red tees)
League Handicaps will be based on Duffers league play only.
Improve your lie anywhere using the club head to do so and remaining in same cut of grass.
Out of Bounds- play stroke only, no distance. Drop a ball anywhere along the flight path that the out of bounds ball traveled, add a stroke and play from there. Out of bounds is marked by a white stake.
Environmental areas- drop ball in play near entry point, free drop. Do not drive carts into environmental areas to look for balls.
Red Stakes mark a lateral hazard and are played the same way.
Tree Relief- one club length away while keeping ball in same cut of grass, no closer to hole.
Two players minimum per team per week. Please arrange for a sub if three of your regular players will be absent the same night.
To sub in second half of season, sub must have subbed in first half of season.
No bye weeks. Each team will have an opponent each week.
Have fun and enjoy the game!
Chief Duffer: Shaun Shipp- contact Shaun by phone, text or email: (937) 597-3524 This email address is being protected from spambots. You need JavaScript enabled to view it.
2019 Season Schedule
[1]
04/15/19
6 vs 8
LHGC FRONT
1 vs 2
LHGC FRONT
5 vs 9
LHGC FRONT
3 vs 11
LHGC FRONT
7 vs 12
LHGC FRONT
4 vs 10
LHGC FRONT

2

04/22/19

1 vs 3




LHGC BACK

7 vs 8




LHGC BACK

6 vs 9




LHGC BACK

5 vs 10




LHGC BACK

4 vs 11




LHGC BACK

2 vs 12




LHGC BACK

3
04/29/19
2 vs 3
LHGC FRONT
8 vs 12
LHGC FRONT
5 vs 11
LHGC FRONT
7 vs 9
LHGC FRONT
1 vs 4
LHGC FRONT
6 vs 10
LHGC FRONT

4

05/06/19

1 vs 5




LHGC BACK

2 vs 4




LHGC BACK

8 vs 9




LHGC BACK

3 vs 12




LHGC BACK

7 vs 10




LHGC BACK

6 vs 11




LHGC BACK

5
05/13/19
8 vs 10
LHGC FRONT
7 vs 11
LHGC FRONT
9 vs 12
LHGC FRONT
1 vs 6
LHGC FRONT
2 vs 5
LHGC FRONT
3 vs 4
LHGC FRONT

6

05/20/19

4 vs 12




LHGC BACK

3 vs 5




LHGC BACK

1 vs 7




LHGC BACK

2 vs 6




LHGC BACK

9 vs 10




LHGC BACK

8 vs 11




LHGC BACK

7
06/03/19
4 vs 5
LHGC FRONT
9 vs 11
LHGC FRONT
2 vs 7
LHGC FRONT
1 vs 8
LHGC FRONT
3 vs 6
LHGC FRONT
10 vs 12
LHGC FRONT

8

06/10/19

2 vs 8




LHGC BACK

3 vs 7




LHGC BACK

10 vs 11




LHGC BACK

5 vs 12




LHGC BACK

4 vs 6




LHGC BACK

1 vs 9




LHGC BACK

9

06/24/19

11 vs 12
LHGC FRONT
5 vs 6
LHGC FRONT
3 vs 8
LHGC FRONT
4 vs 7
LHGC FRONT
1 vs 10
LHGC FRONT
2 vs 9
LHGC FRONT

10

07/01/19

1 vs 11




LHGC BACK

4 vs 8




LHGC BACK

6 vs 12




LHGC BACK

2 vs 10




LHGC BACK

3 vs 9




LHGC BACK

5 vs 7




LHGC BACK

11

07/08/19

6 vs 7
LHGC FRONT
3 vs 10
LHGC FRONT
2 vs 11
LHGC FRONT
1 vs 12
LHGC FRONT
5 vs 8
LHGC FRONT
4 vs 9
LHGC FRONT

12

07/15/19

7 vs 12




LHGC BACK

1 vs 2




LHGC BACK

4 vs 10




LHGC BACK

5 vs 9




LHGC BACK

6 vs 8




LHGC BACK

3 vs 11




LHGC BACK

13

07/22/19

6 vs 9
LHGC FRONT
5 vs 10
LHGC FRONT
1 vs 3
LHGC FRONT
4 vs 11
LHGC FRONT
2 vs 12
LHGC FRONT
7 vs 8
LHGC FRONT

14

07/29/19

7 vs 9




LHGC BACK

1 vs 4




LHGC BACK

2 vs 3




LHGC BACK

6 vs 10




LHGC BACK

5 vs 11




LHGC BACK

8 vs 12




LHGC BACK

15

08/05/19

2 vs 4
LHGC FRONT
6 vs 11
LHGC FRONT
7 vs 10
LHGC FRONT
8 vs 9
LHGC FRONT
3 vs 12
LHGC FRONT
1 vs 5
LHGC FRONT

16

08/12/19

8 vs 10




LHGC BACK

9 vs 12




LHGC BACK

1 vs 6




LHGC BACK

3 vs 4




LHGC BACK

7 vs 11




LHGC BACK

2 vs 5




LHGC BACK

17

08/19/19

3 vs 5
LHGC FRONT
9 vs 10
LHGC FRONT
4 vs 12
LHGC FRONT
8 vs 11
LHGC FRONT
2 vs 6
LHGC FRONT
1 vs 7
LHGC FRONT

18

08/26/19

9 vs 11




LHGC BACK

10 vs 12




LHGC BACK

4 vs 5




LHGC BACK

2 vs 7




LHGC BACK

1 vs 8




LHGC BACK

3 vs 6




LHGC BACK


Weekly Results
Total
Event #16 on 08/12/19
Player
Player Statistics
Team
Pos
Tm
Player
Points
Gross
Hcp
Net
Points
P
B
E
Putts
Points
1
1
HUGHES, BOB
169.00
Sub #11
1
0.00
COLEMAN, MICHAEL
210.00
38
3
35
13.00
6
COLEMAN, MASON
131.00
38
4
34
14.00
5
1
COLEMAN, MARK
185.00
38
4
34
6.00
4
1
Total Points: 796.00 Player: 695.00 Sub: 101.00
2
5
GRABER, CHUCK
181.00
38
1
37
7.00
4
1
BARNES, JERAMI
180.00
40
3
37
16.00
2
1
DANIELS, JERE
211.00
43
6
37
18.00
2
GLEESON, LARRY
126.00
42
6
36
5.00
3
Total Points: 792.00 Player: 698.00 Sub: 94.00
3
10
RUTAN, DOUG
179.00
37
0
37
12.00
5
2
FARLEY, PAT
161.00
41
4
37
15.00
5
PARKS, PETE
94.00
Sub #16
6
0.00
FISH, DANA
164.00
41
8
33
14.00
4
Total Points: 777.00 Player: 598.00 Sub: 179.00
4
4
ALLISON, DAVE
185.00
40
3
37
8.00
4
WESSON, DOUG
166.00
36
3
33
12.00
4
2
COOKSEY, TOM
216.00
43
4
39
11.00
3
COOKSEY, HEIDI
191.00
44
7
37
5.00
3
Total Points: 772.00 Player: 758.00 Sub: 14.00
5
2
FULTZ, JORDAN
183.00
37
1
36
15.00
6
1
VERMILLION, DARIN
151.00
Sub #22
2
0.00
BENAVIDES, ROBERT
176.00
47
3
44
4.00
1
KORN, RANDY
151.00
36
5
31
17.00
4
2
Total Points: 760.00 Player: 661.00 Sub: 99.00
6
8
HEABERLIN, DAVE
184.00
41
4
37
10.00
1
2
RINGLER, MIKER
165.00
46
6
40
7.00
3
WALTERS, RUSS
179.00
44
8
36
16.00
2
JOHNSTON, DARRELL
181.00
44
10
34
8.00
4
Total Points: 721.00 Player: 694.00 Sub: 27.00
7
6
GIBSON, JOHN
156.00
43
5
38
9.00
5
RILEY, MIKE
173.00
45
9
36
9.00
2
RILEY SR, DAVE
163.00
48
9
39
8.00
2
1
RILEY JR, DAVE
176.00
42
11
31
16.00
3
Total Points: 706.00 Player: 668.00 Sub: 38.00
8
7
LOUTH, CHRIS
150.00
40
4
36
6.00
4
SHIPP, SHAUN
176.00
40
4
36
10.00
1
2
WELSH, JASON
155.00
44
8
36
14.00
2
YOUNG, DAVE
113.00
Sub #10
11
0.00
Total Points: 666.00 Player: 594.00 Sub: 72.00
9
11
LAWSON, NOAH
170.00
38
5
33
16.00
6
COOPER, CORY
152.00
43
7
36
12.00
3
SUMMERS, AUSTIN
172.00
51
11
40
8.00
1
NEWLAND, BRYAN
101.00
56
15
41
6.00
Total Points: 651.00 Player: 595.00 Sub: 56.00
10
3
DAVIS, CHRIS
118.00
39
3
36
14.00
3
1
HAMILTON, JASON
160.00
41
5
36
10.00
3
1
DAVIS, BOB
149.00
45
6
39
11.00
1
MORSE, JASON
57.00
Sub #23
16
0.00
Total Points: 635.00 Player: 503.00 Sub: 132.00
11
9
TITUS, JEREMY
152.00
39
9
30
19.00
4
1
PEOPLES, DEREK
63.00
Sub #28
12
0.00
GARZA, BRANDO
60.00
Sub #20
16
0.00
PIERCE, BILL
119.00
49
18
31
17.00
1
Total Points: 508.00 Player: 394.00 Sub: 124.00 Adj: -10.00
12
12
0.00
Ghost #1
0
0.00
0.00
Ghost #2
0
0.00
0.00
Ghost #3
0
0.00
0.00
Ghost #4
0
0.00
Substitutes
Sub10
sub welsh, jason
38.00
44
8
36
16.00
2
On team 7
Sub11
JENKINS, KEN
109.00
38
2
36
13.00
3
2
On team 1
Sub16
ALSPAUGH, BERT
22.00
49
8
41
6.00
2
On team 10
Sub20
sub pierce, bill
50.00
49
18
31
17.00
1
On team 9
Sub22
EARLY, JOHN
59.00
41
1
40
6.00
3
On team 2
Sub23
GARRISON, DAVE
46.00
40
7
33
17.00
4
On team 3
Sub28
sub titus, jeremy
66.00
39
9
30
19.00
4
1
On team 9
Weekly Skins (Gross)
LHGC BACK-W/R
10
11
12
13
14
15
16
17
18
W-Par:
4
3
5
3
4
4
5
4
3
Gross
Pos
Player
R-Par:
4
3
5
3
4
4
5
4
3
Score
1
ALLISON, DAVE
5
3
6
3
5
5
5
4
4
40
2
ALSPAUGH, BERT
4
3
6
4
5
7
8
6
6
49
3
BARNES, JERAMI
4
4
6
4
5
5
4
4
4
40
4
COLEMAN, MICHAEL
4
4
5
3
4
5
5
5
3
38
5
COOKSEY, HEIDI
6
5
5
4
5
5
5
4
5
44
6
COOKSEY, TOM
5
4
5
4
6
4
5
6
4
43
7
DANIELS, JERE
5
4
6
4
5
5
7
4
3
43
8
EARLY, JOHN
4
3
6
4
5
5
5
5
4
41
9
FARLEY, PAT
4
4
6
3
4
4
5
7
4
41
10
FISH, DANA
4
3
6
5
5
4
5
5
4
41
11
GLEESON, LARRY
6
3
6
4
5
5
6
4
3
42
12
GRABER, CHUCK
5
4
5
3
5
4
4
4
4
38
13
HAMILTON, JASON
5
4
5
3
5
5
4
4
6
41
14
HEABERLIN, DAVE
4
4
4
4
5
6
6
6
2
41
15
JENKINS, KEN
4
4
4
3
5
*3
7
5
3
38
16
JOHNSTON, DARRELL
4
5
5
3
6
6
5
6
4
44
17
KORN, RANDY
5
4
5
3
4
4
4
*3
4
36
18
LOUTH, CHRIS
5
4
5
4
5
4
5
5
3
40
19
RINGLER, MIKER
5
5
9
3
6
5
5
5
3
46
20
RUTAN, DOUG
3
6
5
3
5
4
5
4
2
37
21
SHIPP, SHAUN
5
5
6
4
5
5
4
4
2
40
22
WALTERS, RUSS
4
4
5
5
5
5
6
5
5
44
23
WELSH, JASON
4
4
6
4
5
6
7
4
4
44
24
WESSON, DOUG
3
*2
5
4
5
4
5
5
3
36
League Total:
107
95
132
88
120
115
127
114
89
987
Count:
24
24
24
24
24
24
24
24
24
24
League Average:
4.5
4
5.5
3.7
5
4.8
5.3
4.8
3.7
41.13
Skins
Hole
Score
WESSON, DOUG
11
2
JENKINS, KEN
15
3
KORN, RANDY
17
3
Weekly Skins (Net)
LHGC BACK-W/R
10
11
12
13
14
15
16
17
18
W-Par:
4
3
5
3
4
4
5
4
3
Gross
Net
Pos
Player
R-Par:
4
3
5
3
4
4
5
4
3
Score
Hcp
Score
1
ALLISON, DAVE
5
3
5
3
4
4
5
4
4
40
3
37
2
ALSPAUGH, BERT
3
2
5
4
4
6
7
5
5
49
8
41
3
BARNES, JERAMI
4
4
5
4
4
4
4
4
4
40
3
37
4
COLEMAN, MICHAEL
4
4
4
3
3
4
5
5
3
38
3
35
5
COOKSEY, HEIDI
5
4
4
4
4
4
4
3
5
44
7
37
6
COOKSEY, TOM
4
4
4
4
5
3
5
6
4
43
4
39
7
DANIELS, JERE
4
4
5
4
4
4
6
3
3
43
6
37
8
EARLY, JOHN
4
3
6
4
5
4
5
5
4
41
1
40
9
FARLEY, PAT
3
4
5
3
3
3
5
7
4
41
4
37
10
FISH, DANA
3
2
5
5
4
3
4
4
3
41
8
33
11
GLEESON, LARRY
5
3
5
4
4
4
5
3
3
42
6
36
12
GRABER, CHUCK
5
4
5
3
5
3
4
4
4
38
1
37
13
HAMILTON, JASON
4
4
4
3
4
4
3
4
6
41
5
36
14
HEABERLIN, DAVE
3
4
*3
4
4
5
6
6
2
41
4
37
15
JENKINS, KEN
4
4
4
3
4
*2
7
5
3
38
2
36
16
JOHNSTON, DARRELL
3
4
4
*2
5
4
4
5
3
44
10
34
17
KORN, RANDY
4
4
4
3
3
3
3
3
4
36
5
31
18
LOUTH, CHRIS
4
4
4
4
4
3
5
5
3
40
4
36
19
RINGLER, MIKER
4
5
8
3
5
4
4
4
3
46
6
40
20
RUTAN, DOUG
3
6
5
3
5
4
5
4
2
37
0
37
21
SHIPP, SHAUN
4
5
5
4
4
4
4
4
2
40
4
36
22
WALTERS, RUSS
3
3
4
5
4
4
5
4
4
44
8
36
23
WELSH, JASON
3
3
5
4
4
5
6
3
3
44
8
36
24
WESSON, DOUG
3
2
4
4
4
3
5
5
3
36
3
33
League Total:
91
89
112
87
99
91
116
105
84
987
113
874
Count:
24
24
24
24
24
24
24
24
24
24
24
24
League Average:
3.8
3.7
4.7
3.6
4.1
3.8
4.8
4.4
3.5
41.13
4.71
36.42
Skins
Hole
Score
HEABERLIN, DAVE
12
3
JOHNSTON, DARRELL
13
2
JENKINS, KEN
15
2
2019 Team Roster
| | |
| --- | --- |
| Team | Player |
| 1 | HUGHES, BOB |
| 1 | COLEMAN, MICHAEL |
| 1 | COLEMAN, MARK |
| 1 | COLEMAN, MASON |
| 2 | VERMILLION, DARIN |
| 2 | BENAVIDES, ROBERT |
| 2 | FULTZ, JORDAN |
| 2 | KORN, RANDY |
| 3 | HAMILTON, JASON |
| 3 | DAVIS, BOB |
| 3 | MORSE, JASON |
| 3 | GARNER, NICK |
| 4 | WESSON, DOUG |
| 4 | COOKSEY, TOM |
| 4 | ALLISON, DAVE |
| 4 | COOKSEY, HEIDI |
| 5 | GRABER, CHUCK |
| 5 | DANIELS, JERE |
| 5 | BARNES, JERAMI |
| 5 | GLEESON, LARRY |
| 6 | GIBSON, JOHN |
| 6 | RILEY JR, DAVE |
| 6 | RILEY SR, DAVE |
| 6 | RILEY, MIKE |
| 7 | SHIPP, SHAUN |
| 7 | WELSH, JASON |
| 7 | LOUTH, CHRIS |
| 7 | YOUNG, DAVE |
| 8 | HEABERLIN, DAVE |
| 8 | JOHNSTON, DARRELL |
| 8 | WALTERS, RUSS |
| 8 | ROPP, KELLY |
| 9 | TITUS, JEREMY |
| 9 | PIERCE, BILL |
| 9 | GARZA, BRANDO |
| 9 | PEOPLES, DEREK |
| 10 | RUTAN, DOUG |
| 10 | FARLEY, PAT |
| 10 | PARKS, PETE |
| 10 | FISH, DANA |
| 11 | LAWSON, NOAH |
| 11 | COOPER, CORY |
| 11 | SUMMERS, AUSTIN |
| 11 | NEWLAND, BRYAN |
| 12 | Ghost #1 |
| 12 | Ghost #2 |
| 12 | Ghost #3 |
| 12 | Ghost #4 |